Continued/..........Learning more - page 2... << back to home page 1
If you are completing any form of residential development that requires planning permission, then can you afford not to have our guide? - If you were refused planning permission what would that mean to you?
I knew that if people were employing my services in order to get results, many other less experienced home owners were not enjoying this level of success on their own development schemes. You could argue 'natural justice' but I personally find it offensive when a profession that is fundamentally entwined within any society becomes so elite that it is deliberately made into a science that the ordinary Lay Person is unable to understand or afford. This has already happened in the fields of Law & health. Lawyers & Physicians have now become 'pre-madonnas' who allow themselves to be accessed to only those that can afford their fees - this is such a shame.
"I knew this sort of Planning advice did not exist on this broad scale".
---

The only items I could find on the Internet were general advice tutorials which didn't attempt to match site specific circumstances that you may have. Its all very well 'generally' advising a person what he or she can build under Permitted Development without needing a formal Planning Consent but this is totally useless unless you unfold the entire criteria of the 'catch 22' reasons why that may not apply for your particular site. Out of all the home extension schemes I do every year, only about 2 may not require formal Planning.
Most Local Authorities now have guidance notes & design guides which is my first free tip in pointing you in the right direction. These design guides, although very useful, wont give you the entire picture specific to your site conditions. Our Planning guide will! It will clearly point out site specific issues that you must consider first that will affect a Planning Decision.
Assessing a site using our 'development template' will reveal issues that could cause you problems during a formal planning application. Many of these issues can be 'site engineered' or adjusted on plan to reduce the potential of your application becoming contentious or high profile.
Our Guide will help you identify these potential Planning Issues & give you options on how to deal with them such as site levels, side windows, overlooking, loss of light etc. to name but a few.
Since I already knew how to present a scheme for best possible acceptance from the Planning Department, I decided to create the first Comprehensive Planning Guid ebook for the UK that is now available.
---
OPTIONS: Your can order and purchase your copy now for full unrestricted use of the Planning Guide ebook straight away or you can choose to download a test version for a short restricted viewing and make your mind up later at any time.

or

---

Free download - 'test drive' your Planning Permission Guide ebook today.
---
After thousands of hours handling my own clients projects & a few hundred hours more sat at the computer compiling this ebook & web site, The 'Maximum Build Planning guide' was created for your use!
---
Testimonial:-
"I found your Planning guide invaluable in helping me assess my own building scheme. After reading your guide I was surprised to see how many relevant Planning Issues my simple site had. In the end I did engage a Local Agent to be safe & it was reassuring for him & myself that I was already aware of the Planning issues that would affect the final design. It also allowed me to quiz my Agent with relevant questions & I felt that we were all 'singing from the same hymme sheet'. In the end our scheme went through Planning at the first attempt without any time wasting alterations or protracted negotiations. Without your initial guide I feel that I would still be 'hell bent' on pursuing a totally unworkable & un-neighbourly scheme through to the appeal... Yours Mrs. K. from Bucks.
---
Do you need a quick way to assess your sites potential & extract most of the relevant Planning issues that will affect your final design? Look no further than Maximum Build Planning Guide.
First, let me tell what Maximum Build Planning Guide (MBPG) is NOT!
MBPG DOES NOT guarantee Planning approval for your site or scheme. It merely allows you to identify most of the relevant Planning Issues that may affect your final design with options & guidance on how best to tackle these issues. It will however, improve your chances.

MBPG IS NOT a 'one size fits all' solution to every residential development scheme. There will always be new situations that will deviate from generic accepted principals. It will allow you to identify areas that can be exploited if possible to maximise your sites potential development especially in restricted or zoned areas.

MBPG MAY NOT provide the advice, guidance or conclusions you had hoped for. It will allow you compile your own risk assessment on how you present a scheme to the Planners & whether or not certain allowable site alterations need to be completed prior to an application being submitted.

MBPG IS NOT your only source of advice & guidance. It is always recommended to obtain second opinions & confirm any thoughts or guidance with other local professional advice before setting on a course of action.

MBPG IS NOT like anything you have ever seen before! Many tips are revealed & other exploitation of the many grey areas that are inherent within most Planning matters are also revealed!

---
How easy it is to use our Maximum Build Planning Guide?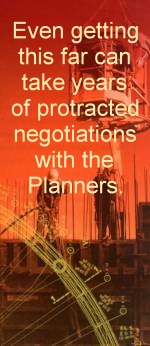 "...everything a householder could want is in our Planning Guide"
The Planning guide is in digital format only & has quick links from its contents page to every heading & section within the ebook for easy & quick navigation around the document. Not only does it contain almost everything a householder would require in assessing their building project, but you have added extras that I would normally have never realised that has been useful for me when advising my own clients.
"A full-featured document with an extremely easy to use interface makes reading & navigating around the document a snap. I definitely would recommend this to anyone, especially novice DIY developers testing the water for the first time."

Richard Lee (Builder)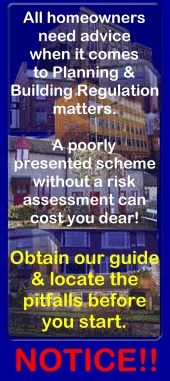 Dear MSM ,

"I commend you on such a fine and comprehensive guide for us householders that tend to move quite a lot. I have used your Planning guide on several projects now as a check list of things to cover even before I begin to purchase a property. I have now avoided most of the pitfalls I made in my earlier years of buying cheap property with the view to extend & develop for profit. It is uncanny just how much influence the Planners have on our property aspirations these days so being prior informed of the potential Planning Issues is an advantage I am keen to retain. I have also been using two other guides that were freebies from various Councils but they didn't give me the 'exploitative' element of your own guide - It is obvious that some of your techniques would not be promoted or endorsed by the Planners so it is nice to have an edge that allows me to exploit certain aspects of residential development to my advantage. I will definitely recommend your guide to others".

You did a great job.

Sincerely,

Mike Goodwood (property developer)
---
New simple to understand Planning Permission Guide...
"Puts dozens of strategies & risk assessments procedures that you should be completing BEFORE you present a scheme for formal Planning Permission in the UK."
Order your 'ebook' today & find out how the 'Professional Planning Consultant' prepares a scheme for residential development PRIOR to formally submitting an extension scheme or full site redevelopment for Planning Permission!
---
OPTIONS: Your can order and purchase your copy now for full unrestricted use of the Planning Guide ebook straight away or you can choose to download a test version for a short restricted viewing and make your mind up later at any time.

or

---

Free download - 'test drive' your Planning Permission Guide ebook today.
---
planning-approval.co.uk - MAXIMUM BUILD

Obtaining Planning Permission for residential development in either extending your property or redeveloping the site for new dwellings needs careful presentation & a risk assessment prior to submitting for Planning Consent. A badly presented scheme to the Planning Department by the Novice home owner can lead to an Automatic Rejection & a Planning Refusal that could be hard to overturn. Our MAXIMUM BUILD Guide will assist you in assessing your sites potential & what areas you can exploit prior to submitting your scheme for Planning Permission.