EXTRA SERVICES AND PRODUCTS
WOULD YOU LIKE US TO REVIEW YOUR SITE OR DEVELOPMENT PROJECT?
DO YOU HAVE A PLANNING PROBLEM AND WOULD LIKE OUR OPINION?
Then for a small fee we can take a look and provide you with our opinion.
£95.00 secures 2 hours of our time to review your problem. Send us a detailed email of the issues with any links to council files etc. & we will take a look. We will usually respond within 7 days with our initial assessment.
Click the paypal link below to send us £95.00 through PayPal & then send us your email of issues or queries.
---
WOULD YOU LIKE OUR SISTER PRODUCT - 'THE SPECIFICATION MANUAL'?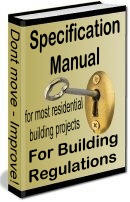 If you like this Planning Guide & still want to control, your project then why not purchase our Specification Manual for the Building Regulations.
This document is designed to support your own drawings and is specifically focussed on residential development / domestic extensions & simply needs editing through your word processor and then printed off.
It has all the technical specifications already installed for all the Building Elements of your scheme from foundations to roof and from services to windows - A complete package to get you going onto the Building Regulations if you are that determined to do it all yourself (not really recommended).
If you want to know more about the product prior to purchase click here.
If you would like to purchase the Specification Manual for £50.00 then please click the PayPal button below.
Once we have received confirmation of your payment we will send you the Specification Manual via email as an attachment.
---
OPTIONS: Your can order and purchase your copy now for full unrestricted use of the Planning Guide ebook straight away or you can choose to download a test version for a short restricted viewing and make your mind up later at any time.

or

---

Free download - 'test drive' your Planning Permission Guide ebook today .
---
---