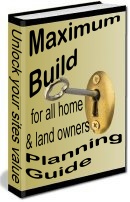 YES!
Rush me
my Maximum Build Planning Guide to assist me in maximising my residential development scheme through the Planing process.
I have read & understand the disclaimer.
I also claim my 3 FREE email 'surgery sessions' for specific advice over the next 6 months should I require additional advice on my building project.
After your order is confirmed to us via PayPal, we will send you our Planning Guide via an email attachment. You will receive an electronic receipt within 5 minutes from our Billing Agents PayPal. Be assured that your on-line transaction is 100% secure.
---
Why not take advantage of our dual order discounted price.
Since you are ordering today, you have the opportunity to instantly upgrade your order to include our 'Maximum Build Planning Guide' to obtain a 40% discount off its normal retail price. This will allow you be prepared for your next residential development scheme.
When you accept this upgrade offer below will receive...
1.) The Specification Manual for £50.00

2.) eBook Maximum Build Planning Guide for £50.00 less a 40% Discount
Both Products for ONLY £80.00
Take advantage of this offer by simply clicking
on the button below.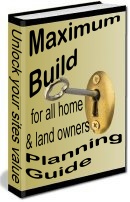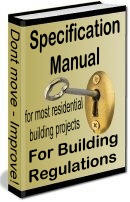 DUAL purchase - special offer
Click here for the discounted DUAL ebook & specification manual purchase for only £80.00
Once we have received email confirmation of your online payment via PayPal we will send you an email with our Maximum Build Planning Guide & Specification Manual attached ready for editing within your own word processor or if you prefer we can direct you to our download area of our web site where you will be able to download both sets of documents yourself . We log on every day for receipt emails so please allow 24 hours before we are able to deliver your Planning Guide & Specification Manual one way or the other.
---
Click here for the SINGLE ebook purchase - Specification Manual £50.00