Home improvements, property refurbishment, property investing, buy to let, buy to sell, income from property, business opportunities, getting started, mortgages, finance, Solicitors, working from home, liability & all other home improvement matters.

Please use our carefully selected featured links below to obtain information & quotes for all types of home improvements. This Article is FREE for anyone to use.


Where to start with property investing
Property investor information is available for free with Plan4group.
There are many paths in property, and all are exciting and interesting. For a start, some of the paths in property you could choose from are in the menu.
These of course are not all of the routes you can take.
Plan4group information is mainly focused on residential and in the UK only. Once you have reviewed each path, you have lots of planning to do to make sure you are maximising the benefits of each route. It is best to try to be focused, pick a path and learn as much about it as you can. Once you have enough experience, then if you want to expand you will have a good base to start from. I have found that most people in property who have not been successful, have been so because they tried to do a bit of everything, and bit off more than they could chew. They also had unrealistic low budgets for any refurbishments or upgrades (just look at the twee tv programme property ladder). No one can tell you what is the right path for you. This is something you have to decide yourself. Research this site to find out more about buy to let and property investing in the UK.

How to manage a refurb - Patrick Harrington
An indepth look at how to manage a property refurbishment

The first point I would like to make here is with regards to full surveys. When buying a property you have the choice to elect which type of survey you would like to have carried out. Generally you have three options. Option one is the home buyers report, option two is an intermediate report and option three is a full survey. If the property you are looking to purchase is in need or more work than a kitchen, bathroom and a lick of paint I would suggest you have a full survey undertaken. Even if the property superficially needs nominal work you can still get caught out.
I was recently offered a property which someone had purchased via private treaty with only a homebuyers report. They purchased a property for 110k which required around 15k spent on it to then sell for 140k, sounds okay on the surface. This house was a three bed end terrace house next to the start of another terrace, in fact the start of the other terrace was a fraction under 1m away. The vendor of this house purchased this as their first investment property and was eager to get the first of many properties under his belt.
It transpires that this property has subsidence to the front and side wall caused by drainage problems that were not corrected. I was offered this house for 60k and was told that they would be willing to take an offer on the property. This work will not come cheap especially as the start of the next row of terraced houses was so close to the problem area of this house. As you can see you cannot compare the cost of a few extra hundred quid for the full survey against the loss that this person will make of around 50 - 60k when all said and done.
When refurbishing a property you need be sure of "your intent"; is the property to be sold or to be let?
The reason why you should make this decision before works commence is down to costs.
WHY NOT OBTAIN OUR MAXIMUM BUILD PLANNING GUIDE

New simple to understand Planning Guide... "Puts dozens of strategies & risk assessments procedures that you should be completing BEFORE you present a scheme for formal Planning Approval in the UK." (Order your 'ebook' today & find out how the 'Professional Planning Consultant' prepares a scheme for residential development PRIOR to formally submitting an extension scheme or full site redevelopment to the Planners!).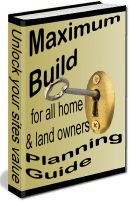 Obtaining Planning Permission for residential development in either extending your property or redeveloping the site for new dwellings needs careful presentation & a risk assessment prior to submitting for Planning Consent. A badly presented scheme to the Planning Department by the Novice home owner can lead to an Automatic Rejection & a Planning Refusal that could be hard to overturn. Our MAXIMUM BUILD Guide will assist you in assessing your sites potential & what areas you can exploit prior to submitting your scheme for Planning Permission.

click here to find out more about our guide
If you are going to keep the property the works should be undertaken with ongoing maintenance in mind. As a landlord you will want to keep your tenants happy, the consistent presence of builders will not achieve this aim if works are carried out in half measures.
An example of where your intent for the property can be shown to give two different remedies is easy to illustrate. The fascia's and soffit's for your property are not in good condition and your builder asks you what course of action you want to take. If you are going to sell the property you could probably patch these up to enable the sale to take place even if they collapse and fall down two weeks later, whereas if you are going to keep the property it would most likely be the best option to replace the existing with uPVC so you will not be faced with the same problem in a few months time. As uPVC requires no maintenance this will save you time later and also maintain good relations with your tenants. As you can see one problem two different remedies based upon your intent.
Remember - rental voids = costs, builders = costs and your time is also a cost.

The next decision you may want to think about is "your plans". At this point in time you have no idea what the future will hold. This venture, in your mind, may be the start of a new means of earning a living and you may go on to achieve this aim, the other side of this coin is all to plain to work out for yourself. The reason why I mention this point is down to making a provision for the future.
Let me side track for a minute to explain the point I would like to make here. I started buying a few properties and had the idea of this replacing what I did for a living. I got a few under my belt and I felt things were generally moving in the right direction. Upon the completion of each project, whether it be one of my own houses or a house I undertook the building works upon for others, I removed all the surplus material from site and moved it to my lock up (some 1800f2). These premises that I rent (10k ish p.a. inc) I now need to vacate and it dawned on me that I now have a need to store these materials and tools elsewhere which is a potentially major problem.
Luckily I made a provision for this with some of the houses that I have bought to refurb and sell. Two of the properties had garages (standard single size) and I had been pondering long and hard about the dead money I was pouring into renting my lock up. I also wondered if there was any additional ways in which I could benefit from the properties that I purchase, not just the profitability from the resulting sale.
My solution was to extend the garages on the houses. I changed them from 4.5m to 11.5m and I increased the height from 1.9m to 2.9m. This was allowable on both properties under a planning regulation called "permitted development" without the need for a planning application. Both garages are visible from the gardens of the houses and frankly they are ugly due to their size. I put up concrete fence posts, gravel boards and 6" fence panels and now only the top 2" of the garage can now be seen from the houses. Both these properties are about to come onto the market and upon speaking with the local estate agents I will not have to reduce the sale price by more than £1,000 on each house.
My intent for the long term is to continue to refurb properties as a living so this storage facility is essential to me. By having this storage space it also saves me money. I recently picked up 2000m of skirting, architrave & dado for a little under 20p per m against a retail price of around £1. No doubt this little cost savings over time will end up paying for the cost of these storage facilities.
If your plans for the future are to be materialised you need to make provisions so that you do not take one step forward and two steps back. When looking at a property look to see what value you can add and perhaps what you may be able to retain from it that you can benefit from. I know many people who have bought a house in the catchment area of the best school in the area. They have no intention of living in the property and let it out but as far as the school is concerned they live in the house so their child is then able to get into the school in question.

When thinking about your plans you need to consider how the building works will be managed. The next stage is to devise "your strategy". Do you intend to farm the buildings works out in full to one building contractor or divide the works up and appoint your own roofers, plasterers, plumbers etc. or perhaps retain some aspects of work for you to undertake yourself. There is a certain logic to believe that if you farm the work out trade by trade you will achieve a cheaper end result but this is not always the case. The other problem you may be faced with is that these singular tradesmen are not the most reliable builders in the world so do not be too surprised if Ronnie the roofer does not turn up for work when you booked him.
By having little or no building knowledge does not mean it has to remain that way. There are a million and one short courses out there in all aspects of building work and they are not that expensive either. If you are about to embark on your first refurb you would do well to spend a little time on site to see how things are done and what duration of time they take. Not only will you learn you will also be surprised and it may also stop your cowboy builders getting up to no good such as accidentally forgetting to insulate new stud partition walls.
The first job that you need to undertake is a complete specification listing each and every job that you want undertaken. I generally do this on a room by room basis with the externals listed separately. You will need this to be able to obtain any prices from your builders. You may want to have this with alternatives and get the builders to price on both options from the outset. Altering the spec after the event generally incurs a greater expense and can also frustrate your builders. Frustrated builders have been known to take out their irritation with silly prices which ultimately you may have to pick up the tab for.
If you have decided to get one set of builders in to do the whole job then you do not have to worry about the manner in which the job is organised, that is their problem – simply agree a completion date from the outset. But if you have decided you get different tradesmen in for each aspect of the job you will need to organise the job in a streamlined way to achieve; 1. the best end result, 2. keep costs down , 3. get the job completed in the quickest possible time and to stop your tradesmen falling all other each other by trying to get their works done all at the same time.
We have just become an ISO registered firm for the quality of our management so it seems that we must be doing something right.
In my opinion the best way to organise a job is as follows;
Gut - Before any work commences on site in any capacity I always completely gut the property. This includes kitchens (simply leave a water pipe with a tap on the end of it), bathroom (leave only the toilet with no cistern), carpets, curtains, internal doors. Basically everything that is not to remain. The removal of the kitchen will also make the property exempt from council tax (Class A or C exemption). Get hold of a copy of the "Classes of exempt properties" list from your local rates department for clarification.
Do not just dump the whole lot in the garden or garage as you are spending your time moving it once and then a second time of putting it in a skip. What I have done of late is look in the local papers of where the job is situated and looked for these adverts where people will come along with a trailer and take all the rubbish away. Don't do this in half measures get them to do the whole lot in one hit. I recently had four skip loads removed in this way for £320 and they did all the loading themselves, I had to do nothing. You could not get four skips for this money so not only were they cheaper but they did all the donkey as well – fantastic.
I would suggest that you undertake this as soon as physically possible after you have completed on the property purchase. By gutting the property you can start to see the real job in hand. It also allows you the opportunity to make any last minute alterations to the spec before your builders come into give you prices on the work in hand.
Structure - Any structural defects that are apparent in the property need to be undertaken before any internal works are commenced. I use the term structural defects loosely but in essence I am referring to leaky roofs, rising / penetrating damp, woodworm, replacement lead flashing's etc. If you are undertaking your first refurb project I would suggest dealing with problems with a greater level of structural problems than these listed should be avoided until you have a greater deal of experience under your belt.
Any works that you commence prior to dealing with these problems could be damaged or pointless when you finally address these problems thus resulting in greater costs and possible time delays.
Windows - Double glazing generally takes around two to six weeks to be delivered on site from the placement of order. If your property needs new windows you want to get these ordered up as soon as possible. If you have exchanged on the property there is no reason why you cannot get the windows ordered prior to completion so you have them on site in the very early stages of the job.
Double glazing is a complete minefield and the horror stories that you heard about from friends are probably all true. My friends elderly mother recently had "a" bay window replaced in her house by a very large double glazing company for the tidy sum of £12,000. No, I have not made a mistake with my zero's. Shop around on this. Generally externally beaded windows are cheaper than internally beaded units. Also stay clear of the double glazed doors as they cost a crazy amount of money for what they are and frankly most of them are ugly and add no value to the property. A stained hardwood door will do the job just as well and save you a few hundred quid in the package.
When ordering your windows go for fully welded units rather than mechanically jointed as they sometimes come apart.
Also get a copy of the window regs listing from your local building control department so that you are sure that the windows that you order comply or further costs and time delays could be incurred. Also watch out for conservation areas which may prohibit certain window types being used.
If the property you are undertaking works upon has old sash window boxes and you intend to replace them with double glazed units generally you will have a half brick size area to make good around the internals of your windows. This is another good reason to get your windows on site a.s.a.p. as you do not want to pay your plasterers twice.
Water / sewerage - You may want to start thinking about this aspect of the job now. It may well be that you intend to install an additional toilet or a shower. Additional toilets are a good thing to have when it comes to selling the property but look to see where the soil pipes from this new toilet will connect onto. If you have to start breaking up concrete drives / pathways to access the existing soil stack you may want to consider the benefit against the cost to be incurred for the extra luxury.
Electrics - What condition is this in ? Fuses in the consumer unit that look like they have been around since the Romans invaded England may offer a good clue as to when the electric's were last upgraded. Do not panic and start adding on a couple of thousand to your refurb budget just yet tho'. A property I recently bought had a consumer unit with the old fuses that have the fuse cable running inside of them and the rooms of the house had only two not switched single plug sockets in them. I simply changed the consumer unit over to a new RCD breaker type. The sockets were siting in solid walls, instead of installing all the electric's again and sinking in new double sockets to each of the rooms I simply got socket converters which makes single sockets into double sockets by screwing into the existing single back box. The end result, when the surveyor looks at the property on behalf of the new interested buyer, is that it looks like the electric's have all been upgraded and also adds as a selling point to the property. The reality is something quite different.
Walls & ceilings - Now all your electric's have been completed and your property is dry it is time to start thinking about the quality of the walls & ceilings to the property.
You have a few options to choose from on this front. The most popular being dry lining or plastering. Dry lining is where tapered edged plasterboards are used. The tapered edges are taped (scrim), filled with a dry lining compound and rubbed down to give a flat surface. Some people do not like this idea but one point you may want to take into consideration here before you dismiss this route is that around 80% of new built properties choose to use this route rather than traditional plaster. The benefits are speed, drying time and finish quality. You may find it hard to believe in this day and age but there is a shortage of decent plasterers in this Country and it is easier to get a decent finish with dry lining than it is with plastering.
Plastering goes on square edged plasterboards and all of the surface is "skimmed" over to produce a flat end finish.
Depending on the depth of the plaster and the heating to the property plaster can take a long time to dry out to be able to start painting which could cause you time delays. In addition, if you are putting in new ceiling and plastered walls to an area where you are planning on putting down a hardwood floor, you could have a problem with the flooring cupping (bowing) due to the level of moisture in the area which may influence which route you choose.
If you are only planning on small areas or one wall in a room then plastering is the only logical choice, dry lining is more suited to large areas or the inside of a cupboard etc.
Heating - With the walls & ceiling having been plastered you need to get them dry so you can get your project finished. In the main you can choose between gas or electric heating. If the specific property offered the choice I would go for gas every time. I am told that there are lots of good electric heating options that are more economical to run and are safer than gas but generally the end punter wants gas central heating. I only use combi's rather than traditional heating systems for ease of installation and I generally only use Potterton, Valliant or Gloworm boilers. When the property is sold you could have the opinion "I have the money in the bank so the boiler is not my problem" but I generally find these makes are more reliable and are easier to find engineers for if faulty than some of the other brands on the market which is a nice after thought when you have sold the property.
Quite a lot of firms are NICEIC and CORGI/ACOPS registered so you have the option to possibly get the heating done at the same time when all the flooring is up for the electric's and you may be able to get a better price by getting both done at the same time from the same company. If you do get them done at the same time ensure walls that are going to be plastered do not have the radiators fitted of this will cause more work.
Watch where the engineers installs the overflow pipe for the boiler, you do not want it overhanging the lounge window for example. Try to get the boiler installed in an area where the space that it takes up is not causing the room to appear too small – garages and cupboards are good.
Bathrooms & kitchens - Generally I go for fully tiled bathrooms. Shop around you can get some half decent tiles quite cheaply. I know that it sounds very boring but I am using a lot of these whites bubble / wavey tiles that are 200mm square. Because they are bigger than the really cheap white ones and are textured they look quite good and as long as you get a decent border with them they look the part but on a cheap budget.
The B & Q take away kitchen range is okay. I get mine elsewhere but this is on account so the prices I get would not be available to you. Get a cheap kitchen, not the rock bottom, but spend time choosing the worktops and handles. You can make a cheap kitchen look the part by having decent handles and worktops, you would be surprised what you could get away with. I know that this may sound petty but try to ensure that when you worktops are fitted that the joins are mitred into each other don't get these metal strips joining the two worktops together as this can ruin the effect of a kitchen. Stainless steel cookers are popular but if the property is more appealing to an older couple avoid stainless steel as this requires more cleaning.
I generally fit extractors to bathrooms and kitchens and also downlighters as these are very popular and offer a better quality of lighting. Lighting is very important in properties especially in the smaller darker dingier sort as they give the feeling of space. The extractors are generally on a timer and are connected to the light switch in the bathroom.
My market is family homes and in my opinion the women decides where the family live not men, men are generally told where they are going to live. With this in mind ensure you offer a good finish in your bathroom and kitchen.
When looking at a potential property purchase try to avoid properties where the bathroom comes off the kitchen as people do not like this. You can add value to a property by moving the bathroom upstairs but not at the expense of a bedroom.
NEXT STEP - THE BUILDING REGULATIONS - OBTAINING BUILDING CONTROL APPROVAL


To compliment our Planning Guide we have also produced a UK specific Specification Manual solely aimed at the domestic/residential side of building. Are you completing your own drawing plans for the Building Regulations as well? Why not obtain our 'Specification Manual' to assist you with obtaining Building Regulations Approval as well. Alternatively you may have already secured Planning Approval & just need this document.

click here to find out more about our Specification Manual
Carpentry - If you are changing the internal doors to something timber get these delivered as late as possible into the job and when they arrive get them hung and coated a.s.a.p. or they may go out of shape due the them absorbing the moisture in the air from the plastering for example.
Any skirting boards or architrave's that need fixing / replacing should be done now. Some other carpentry on the job may need to be done earlier like window sills before plastering or little bits of skirting infill etc.
Decoration - I generally go for painted surfaces only with white ceilings, white woodwork (either in satin wood or gloss) and one generic colour throughout the property – good old magnolia springs to mind.
Floor coverings - Laminate flooring is as cheap as carpet and generally more desirable. If not for any other reason if you intend to do some of the work yourself but have neither fitted carpet or flooring - flooring is easier. Don't go for this shite that you have to glue as it takes 2 or 3 times longer to lay than the interlocking glue-less option.
Externals - When going through the above sequence apply this to the external work to the property as well. For example when you start decorating the property always look to get the outside done before the inside but have both aspects of the works to do at the same time so you can always move inside if it starts to rain.
Drives and parking facilities are always desirable. You may need to submit a planning application to enable the kerb to be dropped for off street parking. You should look to pick up this aspect of the work at the same time as the windows and water/sewerage in case a planning application needs to be submitted or you could incur further time delays.
Gardens are not my strength. If works need to be done in the garden I generally go for soil or grass seeds depending upon the time of the year. People tell me that this can sometimes add a little value but more importantly it could make the difference between a quick sale or one that is drawn out so it is something that I am going to give a little more time to.
I hope that this has been of some help to you in managing you own refurbishment project.
Patrick Harrington.
For and on behalf of Janpal.