Home furnishings, home improvements, property refurbishment, property investing, buy to let, buy to sell, income from property, business opportunities, getting started, mortgages, finance, Solicitors, working from home, liability & all other home furnishing matters.

Please use our carefully selected featured links below to obtain information & quotes for all types of furnishings. This Article is FREE for anyone to use.

Quick links to our FURNISHINGS guide -
furnishing buy to let I preparing a property
viewing a property I bedrooms for 5 year olds
minimising bathroom damp I going gothic
brightening a hallway
Furnishing Buy To Let Property
Furnishing your property can help you beat the other landlords in letting, especially if you have a lot of competition on your hands.
We present to you a case study by TCFS furniture
Case Study
I bought a one-bedroom property in central London and needed to let it right away. As it was unfurnished, it would have been impossible for me to let it. I only had a matter of days before I was to complete on my property.
I visited the TCFS showroom and was pleased to see the high quality furniture and fittings they used. TCFS provided me with an on site survey at no cost the following day. I received their written quotation and design scheme, which I compared with other competitors in the market. They not only offered the best price, they offered the best quality and service. Upon accepting the quotation, TCFS provided everything I required from all major furnishing pieces to bedding and cutlery. They were also able to install on the completion day. Through their numerous contacts in the industry, TCFS introduced me to a prospective tenant and the property was let right away for more than the rental price I asked for. P.B.
TCFS Client.
WHY NOT OBTAIN OUR MAXIMUM BUILD PLANNING GUIDE

New simple to understand Planning Guide... "Puts dozens of strategies & risk assessments procedures that you should be completing BEFORE you present a scheme for formal Planning Approval in the UK." (Order your 'ebook' today & find out how the 'Professional Planning Consultant' prepares a scheme for residential development PRIOR to formally submitting an extension scheme or full site redevelopment to the Planners!).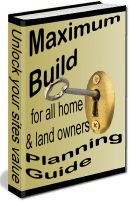 Obtaining Planning Permission for residential development in either extending your property or redeveloping the site for new dwellings needs careful presentation & a risk assessment prior to submitting for Planning Consent. A badly presented scheme to the Planning Department by the Novice home owner can lead to an Automatic Rejection & a Planning Refusal that could be hard to overturn. Our MAXIMUM BUILD Guide will assist you in assessing your sites potential & what areas you can exploit prior to submitting your scheme for Planning Permission.

click here to find out more about our guide
---
People will often judge your property on first impressions - so make them count:
A nicely kept front garden and a well looked after front door make a good first impression
Be tidy: less clutter creates a feeling of more space
Have the carpets cleaned
Wash old paintwork with soda soap
Eradicate strong food or pet smells which can be off-putting. Visitors notice fresh smells, homely smells like coffee or bread
Make sure the kitchen and its appliances and the bathroom are clean
Cheer up tiles with a tile grout whitener
Clear the garage and put your car outside
Put away all valuables safely - just in case
Mirrors can help to make rooms look larger
Clean the loft or attic space
Keep a file of information for potential buyers on the upkeep of the property and on the local amenities, including:
Utility bills
Recent surveys
Any remaining work guarantees such as those for damp proofing, woodworm, roofs and other maintenance.
Land boundary information
Local newspapers and school and health information
ILocal information on things such as shopping, leisure activities and days out near the area.
The history of the house
Anything else your surveyor or estate agent may suggest
---
It might be love at first sight with the home you've just found, but let your head guide your heart. Here are some ways to make sure they both agree:
Visit the property at different times of the day: morning, afternoon and night
Get a list of what is important to you and tick things off for each property you view. You might want to rate each property and compare scores.
Walk or drive past the outside of the property before booking to see it. You often make a decision before walking through the door
Check the outside of the property carefully, looking for broken or missing tiles, breaks in guttering and environmental factors such as litter and noise
Ask to see any guarantees and bills (ask the agent in advance for the vendor to prepare these documents)
View the property with the vendor/agent and then on your own
Always ask to see the attic or loft space.Look over any flat roofs to check for water collecting
Check the plumbing by turning the taps on, flushing loos and seeing how long it takes for hot water to come through.

Young children need a space that doubles up as a warm, cosy bedroom by night and a spacious, uncluttered playroom by day. But, as Donna Hardie reveals, you don't necessarily need a large space to make it a fun space. More importantly, make sure their environment is bright, creative and fun; they'll enjoy it so much they'll never be under your feet again!
NEXT STEP - THE BUILDING REGULATIONS - OBTAINING BUILDING CONTROL APPROVAL


To compliment our Planning Guide we have also produced a UK specific Specification Manual solely aimed at the domestic/residential side of building. Are you completing your own drawing plans for the Building Regulations as well? Why not obtain our 'Specification Manual' to assist you with obtaining Building Regulations Approval as well. Alternatively you may have already secured Planning Approval & just need this document.

click here to find out more about our Specification Manual
Q: I have got a small front bedroom where my five-year-old sleeps and plays. It is very dark in need of a revamp - something fresh and bright.
A: It's best to keep your child's room fresh, light and airy and to avoid anything too over the top, fussy or patterned on the walls and the floor. If you have too much going on in a small, tight space, clashing patterns will just add to the sense of confinement. Primary colours can be fun in a larger space, but heavy colour will almost certainly overwhelm a smaller room. If your child is a girl, pick two colours such as a powder pink (all young girls love pink!) and a soft, vanilla yellow and paint alternate walls in these pretty ice-cream shades.
If your child is a boy, swap the pink shade for a sky blue. If you would like to carpet the floor, keep it light - a cream or biscuit colour will go with anything. Then add a rug that coordinates with your colour scheme, this will create a cosy atmosphere. Bare floorboards are even more successful when it comes to creating an illusion of space.
Sand them down and wash them with diluted white emulsion paint or with solid white specialist floor paint. Add a sheepskin rug over the top for comfort. You need as much light as possible to come in through the window, so avoid any heavy drapes or curtains. Instead, add a cheap and cheerful white roller blind for privacy and layer some pretty voiles over the top. Cox & Cox have a fantastic variation on this theme - white organdie tab top curtains with pockets where your child can stash their favourite keepsakes.
They cost £24 for a pair; contact Cox & Cox on (0870) 442 4787 for more information. If space is really tight, keep all wall space free of clutter and instead add clever details to the back of the door, for example, use blackboard paint to create a practical memo board. If you're struggling for storage space, install shelving around the room just below the ceiling height for any items that aren't used daily. For everyday items that your child needs to get to, invest in clever storage solutions such as an under-the-bed storage trunk on castors. The single quilt cover set pictured is Hetty and costs £25 from Dorma, contact them on (0161) 251 4400 for more details.