Firstly, I hope you all had a great Christmas and New Year - you will notice that I forgot to wish you all great tidings and things in my last December news letter building up to the holiday period - Whoops - pressure of work and all that!! - sorry!
Rights of light - What a bloody minefield this topic is when developing or extending a property. This is potentially one of the most subjective Planning issues their is. Most Planning Departments will have guidance but I guarantee it will be specific in parts and definitely woolly or non specific in other areas leaving the subject wide open to interpretation.
One of the most common areas for debate is with regard to side windows on neighbouring properties. The general rule of thumb is whether or not the neighbours side window is a principal or secondary window. If if is the only principal window for a neighbours room then the chances are the Planners will pay great attention to your development or extension. They will want to be satisfied that the window is not interrupted from skylight by your building project. Secondary side windows on the other hand to habitable rooms or windows to non habitable rooms are far less contentious and are often ignored by Planning Departments in their impact assessments. However, this is only a rule of thumb and surprises do sometimes occur. These surprises often arise from neighbour induced objections where the Planning Officer is forced to stick out his neck and make a case to support your scheme against that of the neighbours vitriol - you don't see many headless Planning Officers these days do you - you get my point.
What about the scientific proving of light issues I hear you ask to override the Planning Officers negative opinion? Well yes their is guidance from the BRE called 'Site layout planning for daylight and sunlight - A guide to good practice' by PJ Littlefair. However, this £55 document is seriously complicated should the need arise for proving diagrams using Waldram diagrams. The novice will never understand it and the same applies to most Planning and Appeal Officers so you are advised to avoid the scientific approach like the plague. Even the official chapters of the guide clearly state that...."The advice given here is not mandatory and this document should not be seen as an instrument of Planning Policy" However, the guidance on whether or not your building works actually obstruct the light to the neighbours window is actually very useful in proving to the Planners that you DO NOT need to prove by calculation any loss of light. You would be surprised when you do work out this 25 degree vertical reference line of light just how close some new buildings can actually go to the troublesome windows. Therefore, if your getting resistance to you scheme on light issues, go get this BRE Guide first from any good stationers or the BRE direct - it could be the best £55 you have spent in helping to get your scheme recommended for approval.
In most rights of light issues, the pragmatic and practical assessment approach is often more productive than the scientific process unless you are dealing with a freshly qualified Development Control Officer who can often recall the theory of these Waldram Diagrams with distinct ease, I would stick to the commonly understood simplistic approach of 'fact and Degree' in your negotiations.
From a legal stand point, most solicitors will advise you of the 20 year rule where a neighbour has a prescriptive right to light if they have enjoyed 'uninterrupted' light for a continuous 20 year period. Now solicitors love the BRE scientific approach as it is a potential fee earning category for them in defending upset neighbours or for fighting a scheme through the appeal process for a developer. Unless you have a large pocket for to absorb abortive fees stay well clear of these sharks and only use them as a last resort.
The conclusion to side windows and right of light is this - Most neighbours that have a side window facing your development or extension will complain to the Planning Officer. Just because you chat over the fence every weekend when hanging out the washing will not automatically preclude that neighbour from complaining during the consultation process. Therefore completing a risk assessment of these windows first is vital . If you discover a neighbours principal window to a habitable room on the side of the property adjacent your own building works DO NOT IGNORE IT. Adjust the design of the new building to take this window into account. There are other clever tactics and arguments you can employ that could allow closer development if there is no other option for your scheme.
Our 'Maximum Build Planning Guide' explains further side window issues in more detail and sets out various risk assessment procedures and tactics that you can incorporate within your scheme when dealing with rights of light issues. I would not advocate submitting any Planning scheme until you have assessed these affecting side windows and prepared your defence. - you have been warned.
• To purchase our Maximum Build Planning Guide
simply click on one of the links below....
To order by post - click here
- this is a form that you can print off, fill in and send to us with your cheque.
We will send you our guide via email shortly after.
---
Thought for the month.....
"Faith is to believe what you do not yet see. The reward for this faith is to see what you believe."
Some clever sod
---
About the Author
MSM is a Practicing Planning Agent and building design team offering Architectural Services to their clients specialising in residential development. The views and opinions expressed here are personal ones based on relevant life experiences. These views and opinions are not intended to be actioned or copied by others.
DISCLAIMER
This email, its content and any files transmitted with it are intended solely for the addressee(s) and may be legally privileged and/or confidential. Access by any other party is unauthorised without the express written permission of the sender. If you have received this email in error you may not copy or use the contents, attachments or information in any way. Please destroy it and contact the sender via e-mail return. Internet communications are not secure unless protected using strong cryptography. This email has been prepared using information believed by the author to be reliable and accurate, but we make no warranty as to accuracy or completeness. In particular MSM does not accept responsibility for changes made to this email after it was sent. Any opinions expressed in this document are those of the author and do not necessarily reflect the opinions of the company or its affiliates. They may be subject to change without notice.
---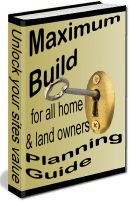 New simple to understand Planning Permission Guide...
"Puts dozens of strategies and risk assessments procedures that you should be completing BEFORE you present a scheme for formal Planning Permission in the UK."
(Order your 'ebook' today and find out how the 'Professional Planning Consultant' prepares a scheme for residential development PRIOR to formally submitting an extension scheme or full site redevelopment for Planning Permission!)
CLICK HERE TO ORDER YOUR COPY NOW
---
SUBSCRIBE TO OUR MONTHLY NEWSLETTER